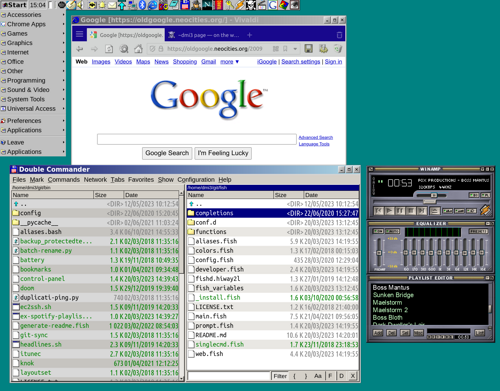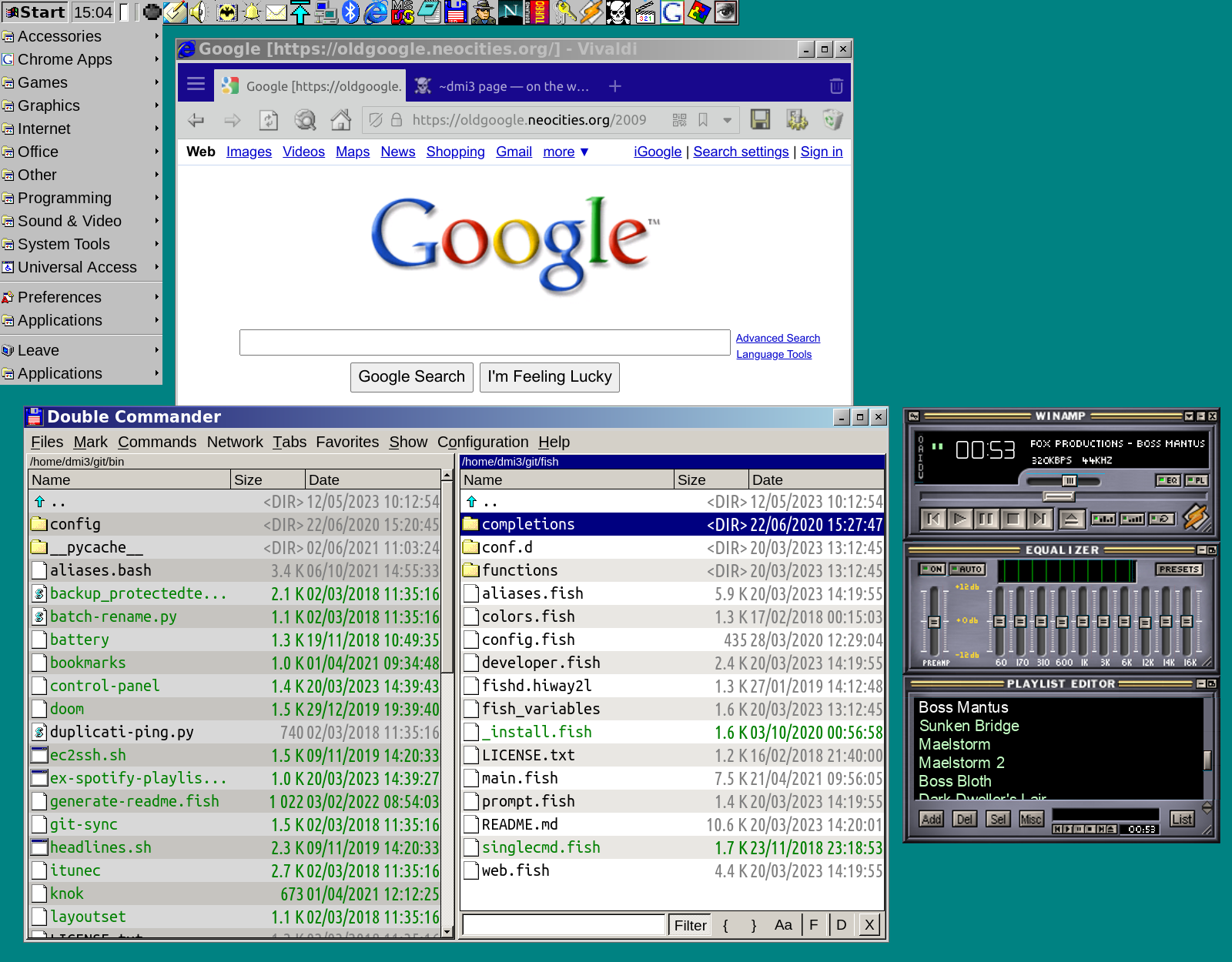 Once, as an April Fools' Day joke1 I set a Windows 95 theme on my Linux desktop for a screen-sharing session. Like, look at me, calling in from a vintage computer, ha-ha! Haven't changed the theme back since then.
Turns out, the Classic Windows interface is actually a pretty good choice from a practical point of view. In terms of productivity, elements are compact and clearly distinguishable, colors are nice and not distracting, and icons are meaningful. Not that modern flat interface blur.
It also helps to draw a line between Work and Life mindsets. In the home environment, I have a bit more modern theme, so by creating clear visual associations it helps to switch the brain between concentration and relaxation modes.
And of course, I am nostalgic about 90 era Windows aesthetic. Not about Windows itself, it is a slow and inconvenient OS, but because my first computer had it, it brings back fond memories.
I don't try to reproduce Windows 95 interface 100%. It is more a mix of 95, 98, and even 2000. As reinterpreted nostalgia that captures important memories from a longer time period. Also not going back in terms of usability and productivity.
Icons
To match your own memories, you probably will want to set familiar icons for modern apps.
I'm especially happy about:

Notepad icon for Sublime Text
MsDOS icon for Kitty Shell
Turbo Pascal for IntelliJ Idea.
Old Google icon for Chrome
Winamp for Spotify

If you can't find an icon, the first place to search would be Windows 98 Icon Viewer then Logopedia
Replacing icons:
(

 

if


 

(

 

is

 

(

 

window_class

 

)

 

"Double Commander"

 

)


  

(

 

begin


   

(

 

spawn_async


   

(

 

str

 

"xseticon -id "


   

(

 

window_xid

 

)

 

" /path/to/totalcmd.png"

 

)

 

)


  

)




)



More
On a side note, there is a whole art/music movement that pops up from time to time called Vaporwave, which plays on the same feeling.
As a bonus, if you are into retro Sega Genesis check mikeyeldey95 for a joined nostalgic experience.
#OldShool #Nostalgia #Windows95 #Windows98 #Vivaldi
---
Back in the day, when there still were jokes at Fools' Day ↩
---